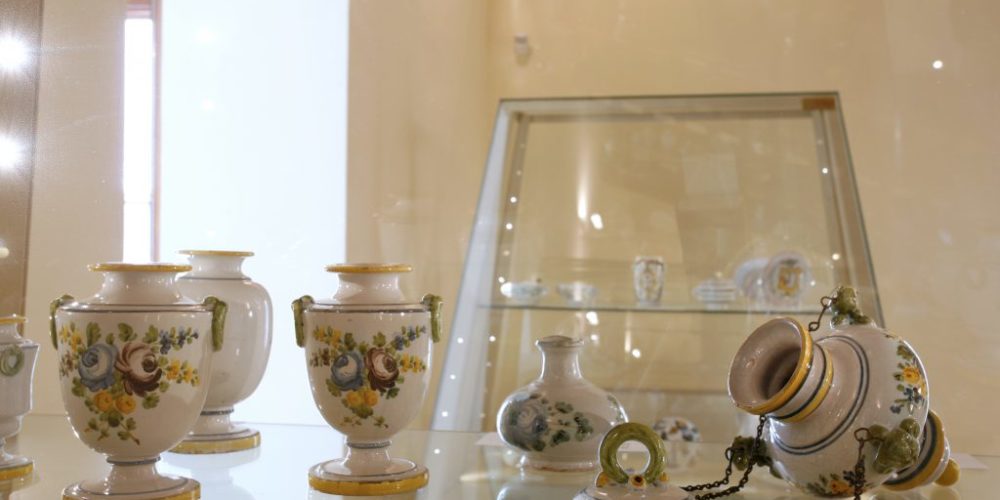 The Museum of Ceramics was opened next to the Romanesque Church of Saint Thomas, on June 1st, 2007. The rich municipal collection as well as the precious artifacts granted by the Carisap (local saving bank) Foundation of Ascoli Piceno and the Matricardi family, are housed in an enchanting and evocative building with a magnificent cloister.
The Museum is divided into five sections that allow visitors to trace the history of the ceramic production in Ascoli Piceno, from the 15th-century tin-glazed (maiolica) basins to the 19th and 20th century vases, plates, urns, coffeepots and cups manufactured in the workshops of Paci (1808-1856), Matricardi (1929-1929) and F.A.M.A.
In the section dedicated to the legacy of Antonio Ceci (a surgeon and art collector from Ascoli Piceno) donated to the Municipality of Ascoli in 1920, there are objects manufactured in Deruta, Faenza, Montelupo, Savona and Genoa.
Of high interest are the painted tiles, originally from the convent of Saint Angelus Magnus, created by two of the most famous "Castellani" artists Francesco and Carlo Antonio Grue and Berardino Gentili. The museum is provided with a fully equipped laboratory which includes a potter's wheel and kilns.
 
From April 1st: Friday, Saturday and Sunday, holidays and pre holidays 10.00 am – 1.00 pm and  3.00 p.m. – 7.00 p.m.
From October 1st: Saturday and Sunday, holidays and pre holidays 3.00 p.m. – 6.00 pm
TICKETS
Reduced children and Seniors
2,00 €
Reduced school groups
2,00 €