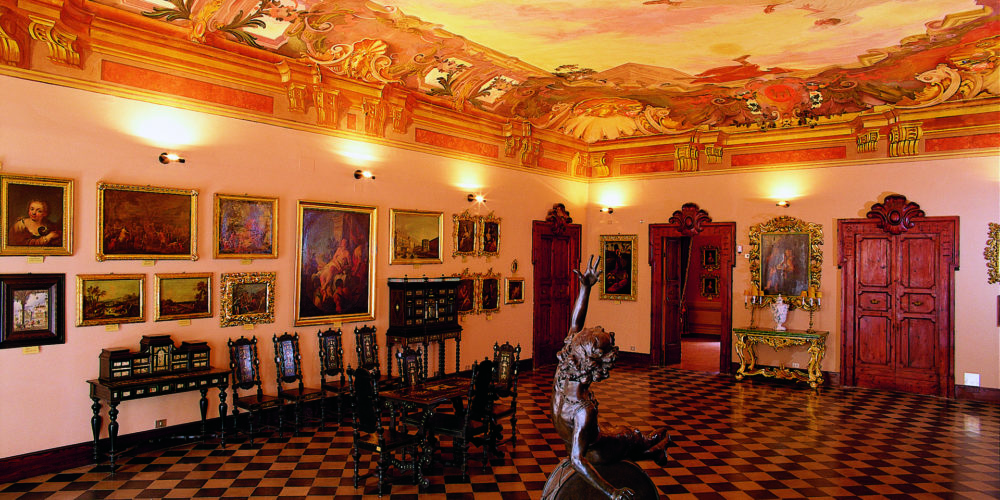 The Civic Picture Gallery was officially inaugurated on August, 4th, 1861, the day preceding the festivities of Ascoli Piceno's patron Saint, Emidio, thanks to the commitment of the two local artists, Giorgio Paci (1820 – 1914) and Giulio Gabrielli (1832 – 1910). The imposing Arengo Palace houses "ab antiquo" a rich art collection, which includes over 800 displayed objects. G. Paci and G. Gabrielli collected art works from the convents of Sant'Angelo Magno, San Domenico and the Gesuits, and all the pictures became part of the municipal heritage after the suppression of the religious orders decreed by the prefect Valerio in January 1861.
The collection was later (1909) enriched with 12.000 prints and drawings donated by Giulio Gabrielli. In 1917 numerous 19th-century works were granted by The Modern Art Gallery in Rome and in 1920 the Gallery acquired the Ceci legacy, a collection of over 100 paintings, sculptures and ceramics donated by the surgeon Antonio Ceci to his home town. Many paintings have been purchased by local administrators over the years, too.
Among the many precious items, it is possible to admire a 13th-century Opus Anglicanum cope, donated to the Cathedral of Ascoli by Pope Nicholas IV, the only Pope the city has fostered, in 1288. Furthermore there are paintings by Carlo Crivelli (two triptychs of Valle Castellana, 15th century), Cola dell'Amatrice (Ascent to Calvary, 1575), Titian (Saint Francis receives the Stigmata, 16th century), Guido Reni (Annunciation, 1575), Strozzi, De Ferrari, Magnasco, Mancini, Morelli, Pellizza da Volpedo (The Lovers' Walk, 1901).
The works are displayed in marvellous rooms and a gallery furnished with rare console tables, armchairs, mirrors and chest of drawers dating from the 18th and 19th century that together with precious draperies, curtains and Murano glass chandeliers, recreate the suggestive atmosphere of an aristocratic palace.
 
Tuesday – Friday: 10.00 a.m. – 1.00 p.m.; 3.00 p.m.- 6.00 p.m.
Saturday, Sunday, holidays and preholidays 11.00 a.m. – 6.00 p.m.
TICKETS
Reduced children and Seniors
5,00 €
Reduced school groups
2,00 €